I asked an open-ended and general question, "What does mental health mean to you?"
Answers came back as depression, bi-polar disorder, schizophrenia, etc. It seems that people assumed I was asking about mental ILLNESS, not mental HEALTH. Or is that where the misconception lies? And what can we learn from this?
Mental health is in fact a topic for EVERYONE. For all people on the spectrum, from severely mentally ill to highly functioning people in society. We all require mental health check ins, just like we all require physical health check ins—or should.
So why is it that when the subject of mental health is mentioned, we still have a stigma about it? Emotions are normal, it is part of our construct as human beings. We are not machines made of metal. If we all agree that emotions are natural and a part of life, we should be acting on that notion. So how do we do this?
By talking more about it, incorporating it into our everyday lives and conversation between one another. Let's open the topic up for discussion and prioritize it. If we want to make positive strides to improve our community and move forward, this is one step we can make.
Checking in with each other, something as small as sincerely asking "How are you feeling today?" Paired with active listening, can go a LONG way in someone's day or mind.

Recognize other people's emotions. Acknowledge how someone is feeling and sympathizing with them. These days, it is easy to get caught up in our own minds and to blow past someone whose world is collapsing and not even see it.

Empathizing. The ability to think and feel from another person's perspective. We all strive to be understood, but hold back when choosing to understand. Empathy is not always easy and will take practice, however we can begin to understand and heal one another.

Reaching out when we are feeling hurt or low. Sometimes it is hard to let our guards down, we don't want to bother or burden anyone. However chances are, they need you just as much as you need them. Practiced with ones we trust and love, we have an opportunity to deepen our connections and strengthen our relationships.

Being conscious of these details, we can improve our social skills, ourselves, and encourage it in others. Perhaps the subject of mental health will not be such a stigma any longer.
Perhaps this blog makes no points at all, certainly not original ones. But is meant to simply encourage mindfulness and discussion about mental health in our community ;)
Communication is imperative for us to be able to work together and move forward as a functioning society. Let's bring human emotion back into our conversations, because if we want to make progress, we cannot choose to neglect our emotions and mental health.
Lacey Avery


SWIFT RIDE is a 4,000+ mile bicycle ride across the USA to raise funds and awareness for mental health and suicide prevention. May 2019.

Learn more about this cause below! Or about small and large ways you can help! Thank you for visiting our page.


Archives

Categories

RSS Feed
Powered by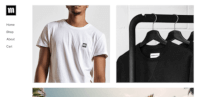 Create your own unique website with customizable templates.