Swift Ride. Ride Along with us
Today's our first push for collecting information on people interested in participating in our Swift Ride podcast.

The podcast will be informal interviews and conversations lasting no more than 21 minutes highlighting the journeys, lives, challenges of our fellow humans. The idea is that we can learn so much truth from being vulnerable and open with each other.

The format of the podcast will be Maggie and Rich opening with a few questions that will be similar in all interviews and then lead wherever the interviewee wants to share. Each interview/episode will be titled with three words that the interviewee wants to identify with. The words could reflect what they want to be identified as, what they think they are identified as or just three words in general...and we are able to interpret or learn through listening to the episode.

We want to invoke curiosity around mental health and suicide. The more we consider these topics and their importance as equal or even more important than physical health, the more we can learn from each other and change the future trajectory or our friends, family and even our own lives.

If you're interested in participating with Swift Ride podcast, please comment or send us a message to Maggie.swiftride@gmail.com or fill out the initial questionnaire here:

Powered by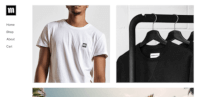 Create your own unique website with customizable templates.